Muncie Industries
Muncie-Delaware County's strategic location, excellent education and transportation systems, low utility costs, skilled labor, quality buildings and available land positions it to excel in certain industry sectors.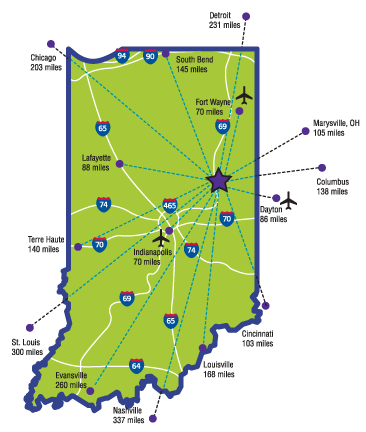 Key Industries
Growing Local Companies
Strength in our communities springs from the people who live and work here. Muncie-Delaware County has a young, diverse workforce with a strong, productive work ethic.
Businesses include Fortune 500 companies Navient, Concentrix, Progress Rail Services, SuperValu, and Jarden Home Brands.
Keihin IPT Manufacturing (Honda Supplier) helps anchor the Airpark Industrial Park.
Auto manufacturing giant Magna Powertrain (MPT-Muncie) continues to expand its operations in Delaware County in the Industria Centre Industrial Park.
Progress Rail Services, a subsidiary of Caterpillar Inc., has located a locomotive assembly facility in Muncie.
Automotive supplier Mursix Corporation has recently expanded its building footprint and workforce, and continues to invest as the business grows, currently occupying nearly a half-million square feet.
Navient has expanded its facility, adding hundreds of jobs, making it the largest for-profit employer in Delaware County.