Attractions and Culture
Muncie-Delaware County has plenty to offer in terms of attractions ranging from beautiful gardens to live entertainment to museums. Whatever your interest, Muncie-Delaware County has something for you.
Arts and culture in Muncie-Delaware County feature everything from visual and performing arts to dance, musical and literary arts. Browse through a diverse array of artwork at one of the local galleries or art museums. Enjoy the music of one of the local orchestras or take a seat in one of the community's theatres – there is never a shortage of cultural outlets or things to do in Muncie-Delaware County.
Attractions at Ball State University
Ball State Planetarium and Observatory – A part of the community for more than 30 years, the Ball State Planetarium and Observatory is equipped with a 70-seat sky theatre that reproduces the night sky from virtually any angle. It also offers great programming from April through October, focusing on such topics as planets, galaxies, constellation patterns and black holes.
Christy Woods – Characterized by 17 acres of winding paths, magnificent floral gardens and a mature forest of oak, hickory, ash, walnut, hackberry and maple trees, Christy Woods serves as an outdoor teaching laboratory for both students and the community-at-large. Christy Woods is also home to the esteemed Wheeler Orchid Collection and Species Bank.
Wheeler Orchid Collection and Species Bank (WOCSB) – Designated as a Plant Rescue Center WOCSB is recognized as one of the finest facilities of its kind. Nestled within Christy Woods at Ball State University, visitors can view a simulated rain forest environment and two working greenhouses. WOCSB is home to more than 1,200 plants, maintains more than 85 genres that are represented across 500 varying species and more than 100 hybrid orchids, which makes it the world's largest and most comprehensive orchid collection that is open to the public.
Atrium Art Gallery – Located in the heart of the Art & Journalism building at Ball State University, the Atrium Art Gallery promotes the visual arts by showcasing the works of students, faculty and visiting artists.
David Owsley Museum of Art – On the southwest portion of campus, the David Owsley Museum of Art is home to more than 10,000 original pieces of art. Its invaluable collection spans a variety of genres, including paintings, prints, sculptures and other works by such masters as Rembrandt, Edgar Degas, Winslow Homer, Childe Hassam and Alexander Calder.
Emens Auditorium – This 3,575 seat auditorium offers a year-round schedule of theater, opera and dance performances by companies from all over the world, along with several popular touring concerts and comedians. The approximately 90 musicians of the Muncie Symphony Orchestra also call this building home, performing annually at eight concerts and a free outdoor concert.
Sursa Hall – With its state-of-the-art acoustic equipment, Sursa Hall is Ball State's newest and arguably most impressive addition to the musical experience of Muncie-Delaware County. Acoustics can be changed almost instantly to accommodate the size and style of music being performed, ensuring an enjoyable experience for the audience and a sense of pride for the performers.
Attractions In and Around Muncie
AMA National Model Aviation Museum – Experience the world of model aviation at the Academy of Model Aeronautics (AMA) headquarters, located just southeast of Muncie. The 1,000-acre Aeromodeling Center is home to the AMA National Model Aviation Museum, which holds the largest collection of model aircrafts in the U.S. The museum retains more than 200 years of model aviation history.
Horizon Convention Center – Located in what used to be Muncie's Federal Building, the Horizon Convention Center maintains its historic beauty while offering the most modern entertainment and audio-visual technology. The 47,000 square feet of meeting space is regularly occupied by local, state, national and international events, many of which are open for the public to attend. The building will soon have an attached hotel, Courtyard Muncie at Horizon Convention Center. The hotel will allow convention and event guests the luxury of staying close to the convention center. The hotel will also be home to The Arc Training Institute and Teaching Hotel which will job train and teach individuals with learning disabilities. The Horizon Convention Center also houses the Muncie Children's Museum, the second largest children's museum in Indiana.
Muncie Children's Museum – Originally located in the former Petty and Walgreen's buildings when it opened in 1977, the Muncie Children's Museum moved to its current 24,000-square-foot facility during the expansion of the Horizon Convention Center in 1996. Nearly 20 interactive exhibits can be found in its current location, featuring everything from a Dino Dig and Bat Cave to the Munseetown Train. The museum also offers traveling exhibits and is equipped with an Outdoor Learning Center.
Downtown Muncie – Muncie's Downtown boasts a vibrant arts scene including galleries, quaint shops and restaurants displaying paintings, pottery, drawings, photography and sculptures created by local, regional and visiting artists. On the first Thursday of each month, the downtown merchants collaborate and spotlight new artists in their respective businesses. During the simply named "First Thursdays," visitors stroll from gallery to gallery enjoying complimentary refreshments and lively conversation with artists and other patrons. The pinnacle of the Muncie arts scene is the annual ArtsWalk, held on the first Thursday of October in conjunction with Ball State University. Musical groups, dance troupes, potters throwing on the wheel and student groups converge on the downtown streets for a family-friendly evening of sensory celebration.
A Gallery Guide maps out the dozen venues offering public art displays, hours of operation and contact information may be picked up at various locations, including the Chamber of Commerce, Muncie Visitors Bureau, Downtown Development office, restaurants and galleries, or online at info@munciecvb.org. A more comprehensive Downtown Map displaying a wider variety of businesses is also available at these locations.
Downtown's healthy recipe for an arts community includes four not-for-profits – Minnetrista, Muncie Civic Theatre, Cornerstone Center for the Arts, and Gallery 308. These organizations provide vital cultural services to the community, including classes, performances, workshops, visiting artists and a wide range of exhibits and experiences for all ages. The Muncie community is once again savoring what the arts bring to the table.
Minnetrista  – Situated along the historic White River and spanning more than 40 acres of landscaped gardens and grounds, Minnetrista encompasses a modern museum facility, Ball family homes, a vast nature area and exquisite sculptures. In addition, Minnetrista offers visitors of all ages a year-round schedule of programs, special events and changing exhibits with a focus on nature, local history, gardens and art.
Oakhurst Gardens – Located within Minnetrista, Oakhurst Gardens consists of six gorgeous acres of gardens, among which sits the 1895 home of George, Frances and Elisabeth Ball. Open year-round, visitors also have access to Discovery Cabin, which is lined with a number of resources on the gardens as well as a hands-on information station.
Cornerstone Center for the Arts – Established in 1999 in what was once a Masonic Temple, Cornerstone Center for the Arts in downtown Muncie draws in more than 90,000 visitors annually. Its arts programs enroll more than 1,000 students each year of all ages, who want to grow and develop artistically. The center also houses a number of thriving art organizations, including Third Age Theatre, Muncie Ballet, Masterworks Chorale, Heartland Stage Company, Westminster Orchestra and the Uptown Rhythm and Blues Society.
Muncie Civic Theatre – Located down the street from Cornerstone is the Muncie Civic Theatre, a local staple in the area's cultural vitality since 1931. This sophisticated, beautifully restored Jewel box theatre showcases local talent and offers workshops for both youth and adults.
Emily Kimbrough Museum – Filled with turn-of-the-century artifacts and intriguing historical pictures, this house was the former residence of Hoosier author Emily Kimbrough. Tours of the home are available both by appointment and during the annual Washington Street Festival.
Moore-Youse Historical Museum – Encompassing family articles from three generations of Moore-Youse women within a circa 1850 home, the museum features such items as Muncie's premier piano and original artwork by J. Ottis Adams. Guided tours are provided by the Delaware County Historical Society. Directly next door, the Heritage Library Resource Center focuses on the genealogy and heritage of Delaware County.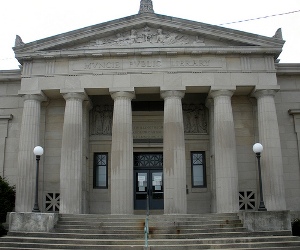 Muncie Public Library – The Public Library is comprised of two full-service circulating libraries and one Local History and Genealogy Center. The library serves the community through a wide variety of literacy based programs for young children, after school programs for students and lifelong learning opportunities for adults. The library provides access to extensive collections of books, periodicals, av materials, e-resources and technology. The library serves as a informational link for people in need by providing information about other community organizations and vital services. The meeting rooms provide public meeting space and encourage community involvement. In addition the Local History and Genealogy Center archives and maintains important historical documents for the use of genealogists and historians.