Why Muncie-Delaware County?
Strategic Location & Nationally Recognized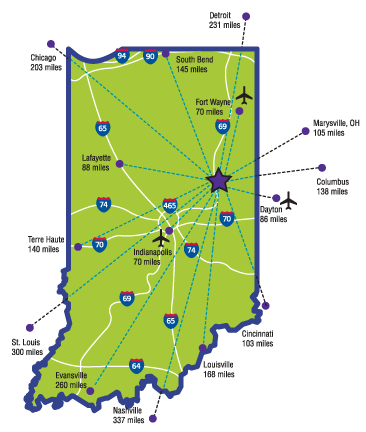 Muncie-Delaware County has a city population of approximately 70,087, a county population of 117,671 and a regional population of approximately 429,000. It is strategically located 58 miles northeast of Indianapolis.
Easy access to the top 100 markets in the country, Muncie-Delaware County has a diverse economic landscape.
Central location and unsurpassed infrastructure for logistics and distribution.
Workforce that is experienced in life science, advanced manufacturing, 21st century logistics and information technology.
Muncie-Delaware County provides the advantages of a large metropolitan area with the conveniencesand quality of life of a smaller, more comfortable community.
Muncie is the only city in Indiana to be recognized as the Indiana "Community of the Year" twice by the Indiana State Chamber of Commerce.
Great Place to Work & Grow a Business
Strength in our communities springs from the people who live and work here. Muncie-Delaware County has a young, diverse workforce with a strong, productive work ethic.
Businesses include Fortune 500 companies Navient, Concentrix, Progress Rail Services, SuperValu, Jarden Home Brands, and Ardagh Group.
Keihin Aircon North America (Honda Supplier) helps anchor the Airpark Industrial Park.
Muncie-Delaware County has three fully-serviced industrial parks and a Certified Technology Park.
Auto manufacturing giant Magna Powertrain (MPT-Muncie) continues to expand its operations in Delaware County in the Industria Centre Industrial Park.
European wind energy company Brevini (Italy) has established U.S.A. headquarters and manufacturing operations in Delaware County in the Park One Business Park.
Progress Rail Services, a subsidiary of Caterpillar Inc., has located a locomotive assembly facility in Muncie.
Automotive supplier Mursix Corporation has recently expanded its building footprint and workforce, and continues to invest as the business grows, currently occupying nearly a half-million square feet.
Navient has expanded its facility, adding hundreds of jobs, making it the largest for-profit employer in Delaware County.