Recreation and Entertainment
Leisure time can mean anything you want it to in Delaware County. We have more ways to keep you busy and entertained all year long than you can imagine. Below are contact information and links to the Web sites of various activities in Delaware County.
Outdoor Activities and Sports
For outdoor enthusiasts, we have acres of well-maintained parks and recreation facilities offering playgrounds, picnic areas, ball diamonds, basketball courts, tennis courts, pools, swimming, camping, fishing and boating.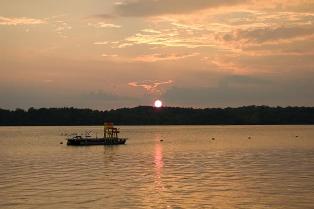 Prairie Creek Reservoir is a 1,252 acre, man-made lake surrounded by 3,000 acres of rolling hills. Enjoy boating, fishing, camping, hiking and swimming.
Organized recreation programs are directed toward a variety of age groups and feature baseball leagues, soccer, tennis, volleyball programs, slow-pitch softball and other sports. Arts, crafts, events and programs for children are also offered through various community centers.
If that isn't enough for you, there are also a number of private and public golf courses, bowling centers, hiking, biking and jogging paths, nature trails, ice skating and roller skating.
Cardinal Greenways is a portion of the longest rail-trail in Indiana. It spans almost 60 miles from Marion through Muncie to Richmond in East Central Indiana. The trail is used by bicyclists, runners, joggers, walkers and horseback riders. It is a great way to experience East Central Indiana while exercising.
Sports lovers can also find active havens through the Muncie YMCA and YWCA, seven public and two private golf courses and 11 locations for tennis.
We also have a year-round schedule of spectator sports to keep you occupied. The Muncie SportsPlex is a five-diamond, lighted softball facility, which is home to many local, regional, national and world-class tournaments. It also has 11 soccer fields, all owned and operated by the Muncie Sports Commission.
A number of annual events are also found in Delaware County, including the Muncie Endurathon. Since 1979, this one-day competition has continually attracted competitors from across the globe. The Endurathon includes a 1.2 mile swim, 56-mile bike ride and a 13.1-mile run, along with the Aqua-Bike event and Sprint Race.
More comfortable on the sidelines? Ball State University offers a variety of varsity sports for spectators to enjoy. The Mid-American Conference School offers intercollegiate basketball, football, outdoor track, golf, tennis, field hockey, gymnastics, softball and volleyball.
Shopping, Entertainment, and Dining
Accommodating residents and visitors alike, Muncie-Delaware County has attracted and encouraged a diversity of quality shopping opportunities from one side of the county to the other.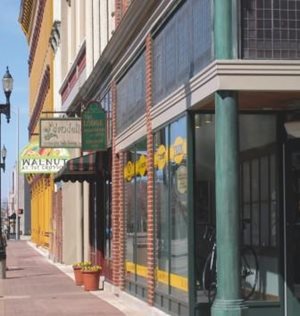 Along with a multitude of dining and entertainment venues, Muncie's revitalized DWNTWN area is also a major destination for shopping. All downtown retail stores are independently owned and operated and many are located in restored or renovated historic buildings. One-of-a-kind handmade creations from local artists, rare specialty items, distinctive gifts, souvenirs and much more can be found in downtown Muncie.
The domiant retail hub in Delaware County is the 655,000-square-foot Muncie Mall, located on Muncie's northeast side. It offers a wide variety of retail stores to meet every shopper's needs. Anchored by Elder Beerman, JC Penney, Macy's and Sears, Muncie Mall features more than 70 additional stores. Since shopping can work up an appetite, Muncie Mall has a wide range of dining options, from a quick snack to a buffet to fine dining.
Dedicated to promoting good health in the community, Muncie Mall opens its doors to walkers at 8 a.m. on Sunday for visitors to walk, talk and window-shop. (Three complete rotations around the perimeter of the mall equals two miles.)
The purchase of everyday items and necessities are easily accessible in Muncie through a variety of superstores. Lowe's, Menards, Meijer, Target, KMart, and two WalMarts are available to meet a variety of household, construction, personal and other shopping needs.
Muncie Area Golf Courses
Crestview Golf Club, Crestview Course
18 holes over 6,198 yards with a par of 71 (Public)
3325 S Walnut St
Muncie, IN 47302-5675
(765) 289-6952
2 miles from the center of Muncie.
Crestview Golf Club, Executive Course
9 holes over 1,373 yards with a par of 29 (Public)
3325 S Walnut St
Muncie, IN 47302-5675
(765) 289-6952
2 miles from the center of Muncie.
Maplewood Golf Course, Maplewood Course
18 holes over 6,571 yards with a par of 72 (Public)
4261 E County Road 700 S
Muncie, IN 47302-8732
(765) 284-8007
3 miles from the center of Muncie.
Delaware Country Club, Delaware Course
18 holes over 6,398 yards with a par of 70 (Private Equity)
510 S Country Club Rd
Muncie, IN 47302-9254
(765) 282-3301
5 miles from the center of Muncie.
Muncie Elks Country Club, Muncie Elks Course
18 holes over 6,384 yards with a par of 71 (Private Equity)
909 N County Road 500 W
Muncie, IN 47304-9705
(765) 759-7770
8 miles from the center of Muncie.
Cardinal Hills Golf Course, Cardinal Hills Course
18 holes over 6,302 yards with a par of 71 (Public)
3900 S Whitney Rd
Selma, IN 47383-9727
(765) 288-2731
5 miles from the center of Muncie.
Players Club At Woodland Trails, Players Club Course
18 holes over 6,884 yards with a par of 72 (Public)
6610 W River Rd
Yorktown, IN 47396-9397
(765) 759-8536
6 miles from the center of Muncie.
Albany Golf Club, Albany Course
18 holes over 6,444 yards with a par of 71 (Public)
1100 E Golf Course Rd
Albany, IN 47320-1281
(765) 789-4366
15 miles from the center of Muncie.
Lakeview Country Club, Lakeview Course
18 holes over 6,354 yards with a par of 72 (Public)
18921 N County Road 150 E
Eaton, IN 47338-9201
(765) 396-9010
16 miles from the center of Muncie.