Back to News & Events
January 31, 2017
Four Delaware County Business Parks Certified as AT&T Fiber Ready; Locations Are First Designations for County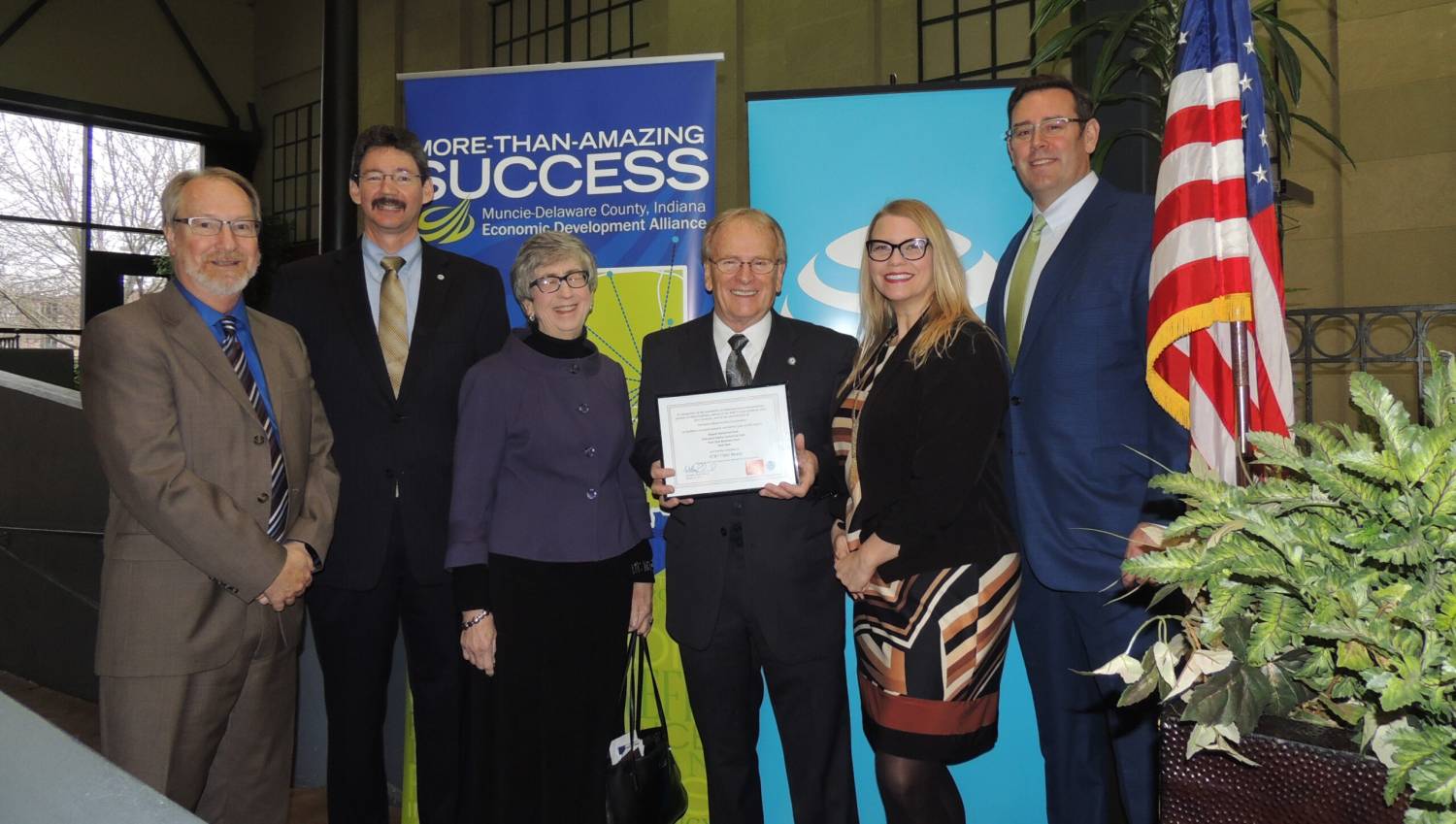 MUNCIE, IND., Jan. 31, 2017 —Joined by local elected officials and business leaders today, AT&T and the Muncie-Delaware County Economic Development Alliance announced that four Delaware County business parks– three in Muncie and one in Yorktown – have been certified as being AT&T Fiber Ready. This marks the first time in Indiana that four Fiber Ready locations have been announced at once, and the facilities are the first designations for the county.
The following locations are now AT&T Fiber Ready:
Airpark Industrial Park                       4501 N. Superior Dr., Muncie
Industria Centre Industrial Park          4701 S. Cowan Rd., Muncie
Certified Technology Park                  1150 W. Kilgore Ave., Muncie
Park One Business Park                    2401 N. Executive Park, Yorktown .
"Today's designations mean that these facilities have been equipped with AT&T's fiber infrastructure – that it's in place and ready to help local businesses grow," said AT&T Indiana Director of External Affairs Jim Tackett. "These parks are now proud members of our successful Fiber Ready program, which is part of our continuing efforts to drive economic development and investment in the Hoosier state.
"Thanks to the tireless work of AT&T employees in Delaware Co. and across the state, we've been able to deploy fiber and other infrastructure that deliver high-speed internet access," Tackett added. "Our employees' dedication, combined with nearly $2 billion invested by AT&T in Indiana's rural and urban communities over the last 3 years, is enabling Hoosiers to connect and innovate."
In today's world, connectivity is important to new employers and businesses of every type. The AT&T Fiber Ready designation helps economic development leaders more effectively position their communities for site selection by emphasizing the availability of high-speed, fiber-based services.
"This certification helps us clearly communicate that Muncie is connected, as our economic developers and community leaders work to bring new businesses here and drive growth for the ones that already call Muncie home," said Muncie Mayor Dennis Tyler.
"The AT&T Fiber Ready designation shines the spotlight on our modern communications services; it will be a valuable tool in local efforts to create and retain jobs," said Delaware Co. Commissioner Sherry Riggin. "Delaware Co. has so many assets that make it attractive to investors, and connectivity is an important one."
"This designation adds to Delaware Co.'s tremendous workforce and education resources," said Delaware Advancement Corp. Board Chair Jud Fisher.  "Highlighting the availability of advanced technologies will help us make the most of opportunities to bring jobs and investment to the area."
To learn more about all four of the new AT&T Fiber Ready sites in Delaware Co., or for more information on economic development opportunities in the community, please go to www.muncie.com.
*AT&T products and services are provided or offered by subsidiaries and affiliates of AT&T Inc. under the AT&T brand and not by AT&T Inc.
About the Muncie-Delaware County Economic Development Alliance
The Alliance (EDA) represents a consortium of economic development entities dedicated to the growth and prosperity of Muncie-Delaware County, Indiana. Our purpose is to allocate and leverage economic development resources to sustain and enhance the economic growth, vitality and global competitiveness of Muncie-Delaware County as a superior business location. Services include site location assistance, retention and expansion of existing businesses, and customized research for business prospects considering Muncie-Delaware County, Indiana.
The EDA is one of only 43 organizations to earn accreditation from the International Economic Development Council and serves as the longest standing accredited economic development organization in the US & Canada.
The EDA's administrative entities are Delaware Advancement Corporation (DAC) and the Muncie-Delaware County Chamber of Commerce. For additional information, please visit www.muncie.com.
About AT&T
AT&T Inc. (NYSE:T)helps millions around the globe connect with leading entertainment, mobile, high speed internet and voice services. We're one of the world's largest providers of pay TV. We have TV customers in the U.S. and 11 Latin American countries. We offer the best global coverage of any U.S. wireless provider.* And we help businesses worldwide serve their customers better with our mobility and highly secure cloud solutions.
Additional information about AT&T products and services is available at http://about.att.com. Follow our news on Twitter at @ATT, on Facebook at http://www.facebook.com/att and YouTube at http://www.youtube.com/att.
© 2017 AT&T Intellectual Property. All rights reserved. AT&T, the Globe logo and other marks are trademarks and service marks of AT&T Intellectual Property and/or AT&T affiliated companies. All other marks contained herein are the property of their respective owners.
*Global coverage claim based on offering discounted voice and data roaming; LTE roaming; voice roaming; and world-capable smartphone and tablets in more countries than any other U.S. based carrier. International service required. Coverage not available in all areas. Coverage may vary per country and be limited/restricted in some countries.
For more information, contact:
Tina Noel
AT&T Indiana Public Affairs
317.777.0559
tina.noel@att.com
Traci Lutton
Muncie-Delaware County Economic Development Alliance
765.751.9126
tlutton@muncie.com