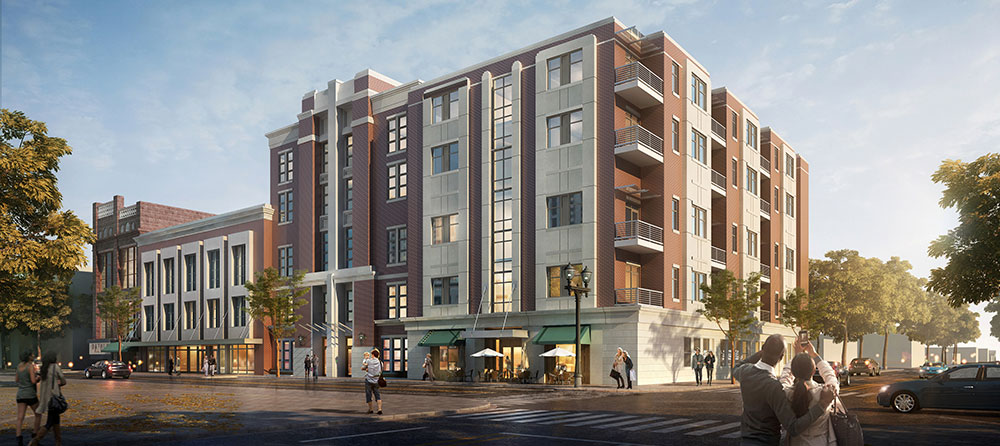 Back to News & Events
December 15, 2016
Mixed-Use Residential and Commercial Development Planned for Downtown Muncie
FOR IMMEDIATE RELASE
Contact: Mayor Dennis Tyler – 765-747-4845
MUNCIE, INDIANA – December 15, 2016 – Earlier today, the Muncie Redevelopment Commission approved an economic development agreement with Roebuck, LLC for the former Sears Building and parking lot at Walnut and Main streets. The $7.5 million mixed-use project will include 42 one to three-bedroom residential, market-rate housing units and more than 20,000 square feet of commercial space in the heart of Muncie's downtown.
Under the terms of the development agreement, the Muncie Redevelopment Commission agreed to provide a commitment of TIF dollars generated from only the increased tax revenues. These TIF funds will not be made available until as early as March of 2019 provided the project is substantially complete.  In addition, the City of Muncie will transfer the parking lot located at the intersection of Main and Walnut streets once Roebuck, LLC has secured full project financing, which must occur no later than August, 2017.
Muncie Mayor Dennis Tyler said, "Private investment will help Muncie continue our positive momentum in redeveloping our downtown area. With the reconstruction of Walnut Street and the new hotel/training center, we know there is a bigger demand for downtown housing, which Roebuck will provide."
"Both city and local business leaders have indicated a strong demand for housing that meets the needs of young professionals," Roebuck's lead partner, Mark Peters, said after today's meeting. "We are proud to invest in a property with great mixed-use development potential that will strengthen Muncie's downtown core."
Roebuck's plans include constructing approximately 44,500 square feet of new space, adding a cornice on the top of the façade of the former Sears Building – which will complement façade improvements funded through a 2013 Muncie Redevelopment Commission grant – and providing private, enclosed parking for residents and patrons.
Jim Riggle, incoming president for Muncie Downtown Development Partnership stated, "Our downtown housing inventory has been extremely low. Finding developers like Roebuck to invest in market rate housing has been challenging, and we're confident this will serve as a catalyst for future investment."
Todd Donati, Executive Director of the Muncie Redevelopment Commission (MRC) stated, "We aim to work with our economic development partners to develop a strong sense of community with residential and business development for all ages. The recent creation of more than 400 street-level parking spaces allows us to transform downtown's concrete spaces into opportunities for growth and investment." Two-hour parking in the alley behind the development and permit parking in the lot at the corner of Main and Mulberry streets will also be available.
"Enhancing quality of place and creating diverse, quality housing options are significant components of the community's Vision 2021 Economic Development Plan. This project builds on the progress and continues the momentum of downtown, creating a distinctive environment that will attract new residents and businesses," said Jay Julian, President and Chief Economic Development Officer of the Muncie-Delaware County Economic Development Alliance and Chamber of Commerce.
---
About Roebuck, LLC: Mark Peters and Gary Dannar, the lead partners for Roebuck, LLC, have extensive experience in ownership, design and development of multi-housing projects, condos and subdivisions across the South and Midwest.