Back to News & Events
May 5, 2016
Terry Murphy to Retire as Alliance's Vice President of Economic Development
Delaware Advancement Corporation and the Muncie-Delaware County Economic Development Alliance today announced that Terry Murphy, CEcD, Vice President of Economic Development, will retire effective July 15, 2016.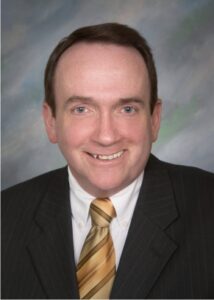 Murphy came to the Alliance in 1991 and worked to develop and initiate the Horizon and Vision programs, the five-year, community-based, comprehensive economic development plans for Muncie-Delaware County. Murphy worked to execute an aggressiveb
usiness attraction, expansion, and retention effort that helped attract, among others, Fortune 500 companies such as Sallie Mae/Navient,
Progress Rail, Save-A-Lot/Super Value, and IBM/Concentrix, along with international companies Magna Powertrain, Brevini, and Keihin Aircon North America.
"We express thanks to Terry for his exemplary work with the Alliance for the last 25 years," said Jay Julian, President/CEO, Muncie-Delaware County Economic Development Alliance and Chamber of Commerce. "Terry is consistently recognized as one of the top economic development practitioners in the State of Indiana, and he is highly regarded by corporate site selection professionals all over the nation. For decades, he has led some of the most important economic development initiatives in Muncie-Delaware County, always doing so with the highest standard of integrity and commitment. Terry's positive impact on Muncie-Delaware County will continue to be evident for many years to come," added J
ulian.
During his tenure, Murphy led various economic development and public/private initiatives. Murphy developed the community's highly-successful shell building program, established three revolving loan funds, facilitated the formation of numerous Tax Increment Finance districts to address infrastructure and capital needs for major economic development projects, led the formation of two Community Revitalization Enhancement Districts to encourage investment in old industrial site areas, and assisted in the creation of Muncie's Certified Technology Park. Additionally, Murphy assisted local companies in obtaining tens of millions of dollars in job training grants, state tax credits, and investment tax credits.
Most recently, Murphy spearheaded the regional effort in the development of the ADVANCE Regional Development Plan. This six-county initiative identified transformational projects for the region and outlined regional solutions to quality of life issues that directly relate to the attraction and retention of talent.
"It has been an honor to work for this organization and community. I have been so fortunate to have had an opportunity to work with such dynamic, committed, civic-minded board members, co-workers, and business, community, and government leaders. Working in partnership with these individuals and groups has allowed us to achieve the successes we have experienced," said Terry Murphy. "I wish the community growing success and prosperity in developing and fulfilling the goals of the new Vision 2021 plan," added Murphy.
"Terry's impeccable work ethic and his dedication to the best practices of the economic development profession have brought distinction to the Alliance. On behalf of the Board of Directors, I am grateful for his long-standing, unwavering dedication, and I wish him all the best in his retirement," said Tom Miller, Chairman of the Board, Delaware Advancement Corporation and East Region President, STAR Financial Bank.
---
About the Muncie-Delaware County Economic Development Alliance
The Alliance (EDA) represents a consortium of economic development entities dedicated to the growth and prosperity of Muncie-Delaware County, Indiana. Our purpose is to allocate and leverage economic development resources to sustain and enhance the economic growth, vitality and global competitiveness of Muncie-Delaware County as a superior business location. Services include site location assistance, retention and expansion of existing businesses, and customized research for business prospects considering Muncie-Delaware County, Indiana.
The EDA is one of only 43 organizations to earn accreditation from the International Economic Development Council and serves as the longest standing accredited economic development organization in the US & Canada.
The EDA's administrative entities are Delaware Advancement Corporation (DAC) and the Muncie-Delaware County Chamber of Commerce. For additional information, please visit muncie.com.